Exterior Structures Scaffolding is the most common work equipment to be used in the construction and construction sector. It is established for the purpose of safe working space and transportation at high altitude. In addition to providing employees with a safe workspace, it also provides advantages such as material download removal, more efficient and fast operation. The most common type of scaffolding in our country is the exterior scaffolding, which extends along the surface of the construction.
The Exterior Structures Scaffolding varies according to the installation and use. Our systems can be used in different workplaces, in different sizes. Therefore, different scaffoldings can be preferred according to the work areas. It provides a fast and practical use due to its easy installation and disassembly. It can be installed at the desired height. Stairs with lids are used for the safety of passage between floors. Wall connection tijs play an active role in fixing the system. In addition, a safe working environment is provided thanks to the hair planks placed on each floor.
What are construction Exterior Structures Scaffolding system features?
One of the most important considerations we consider as An Exterior Scaffold Manufacturer is quality standards. There are 3 different types of exterior scaffolding: H Type Scaffolding, Modular Scaffolding, Wedge-Flanged Scaffolding.
Our systems are modularly installed in the desired sizes in the range of 1.50m x 1.50m, 2.00m x 2.00m, 2.50m x 2.50m or 3.00m x 3.00m.
Vertical frames are 42 x 2.5mm cross section, horizontal and diagonal elements are 27 x 2.5mm cross section. It is produced from TS-EN 10219-1 certified pipes that have been subjected to mechanical tests.
Scaffolding Production is carried out with sub-gas welding in accordance with EN ISO 3834-1 welding quality standards.
Walking platforms have a carrying capacity of 300 kg/m2 and are produced in roll-forming
Being light makes it easy to move. It has the ability to reach the desired height with 75cm frames.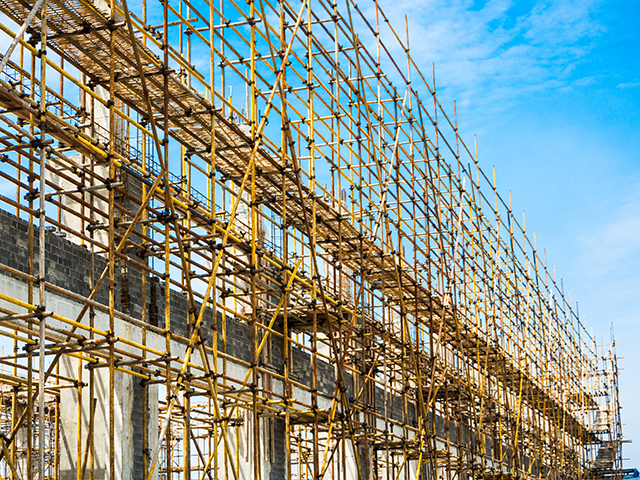 What are the Exterior Scaffolding Occupational Safety and Standards?
Exterior Structures Scaffolding Safety is provided by construction safety network, material extraction platform and work safety materials. Once the Safety Measures are fully implemented, it is time for installation.
Security Elements consist of side railing, sheet plank, lidded ladder and kicking, together with frame, horizontal and diagonal elements.
In the scaffolding systems supported by Security Systems, hair planks and edge protections are placed on each floor and the necessary working environment is provided.
Safe passage between floors is ensured with the help of stairs with lids.
Wall connection tijs are used for fixing the systems and necessary measures are taken for the area where the façade work will be carried out.
Exterior Scaffolding Manufacturing, Projecting and Account
Gürbüz Scaffolding Molding Systems produces the construction site work scaffolding models it offers to its customers in accordance with TS-EN 12810 and TS-EN 12811 standard. It produces and installs the Rental Scaffolding and For Sale Scaffolding models according to universal criteria.
Exterior Structures Scaffolding for Rent
Exterior Scaffolding Systems are examined in 3 sections in terms of usage and replacement.
Type H Scaffolding
Wedge-Flanged Scaffolding
Modular Scaffolding
The Exterior Scaffolding Account is carried out by our company and we provide 24/7 support to our customers with our Projecting and Supervisory services.  We are carrying out a first for you in Turkey with our rental Exterior Scaffolding service. Contact us without further anation!
Our systems can be rented as well as for sale. Contact us for detailed information and to benefit from reasonable prices.
All of our systems have high-level security measures. In addition, you can benefit from our security systems.
You can contact our customer service for detailed information about Exterior Scaffold prices.