What is a mobile scaffold? The quality of the scaffolding is quite significant, especially for companies that carry out various projects and constructions on high floors. However,  there are also some scaffolding systems designed to be used in indoor works or low-rise outdoor constructions.
If you wonder what is mobile scaffolding, it is a type of scaffolding with wheels unlike classical designs. This moving structure allows craftsperson to move more comfortably on scaffold.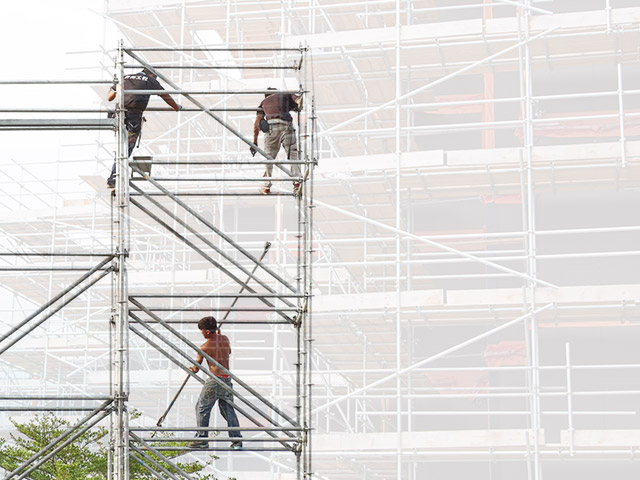 What Is Mobile Scaffolding?

What Are Its Advantages?
A mobile scaffolding has castor wheels so that it is a good option for wall and ceiling works inside buildings, not for high-rise buildings.
For the craftsman working on mobile scaffolding, it is quite important to complete the project in a much shorter time. After its installation, mobile scaffolding can move through castor wheels in desired direction inside the room. Thus, only 1 mobile scaffolding is adequate to operate all interior works rather than installing fixed scaffoldings all inside of room.
The height of the mobile scaffolding can be adjusted according to the needs. It offers several advantages in its setup and use. If you want, you can raise the length of the mobile scaffold and use it for outdoor designs. The adjustability of the height offers use in different areas and saving time for projects on the first floors of the buildings.
The mobile scaffolding saves users' time during use and installation since its practical design. Especially, its installation process offers a significant difference from the other scaffold types in terms of saving time. Because the others require connection and fixing probes while the mobile scaffold reaches you already done these processes. All you need to do is unfold the mobile scaffold by following the appropriate steps, and it will be ready to use in a few minutes. While removing, it will also prolong only a few minutes.
Is Mobile Scaffolding Reliable?
The presence of castor wheels might make you think that mobile scaffolding might have a security vulnerability. However, each wheel has a brake to fix the scaffold. There are also probes located on the sides of the scaffold and extending to the ground in order to prevent possible occupational accidents in the case of failing any of the brakes during operation. These probes fix the mobile scaffold to the ground during operation.