Exterior scaffolding systems is the most common work equipment used in the construction industry. It is designed to work safely at a height. It not only provides a safe working environment for employees, but it also provides benefits such as lowering and lifting materials and working more efficiently and quickly. The most common type of scaffolding in our country is the exterior scaffolding laid on the surface of the construction.
Exterior scaffolding systems varies depending on how it is installed and used. Our systems are manufactured in different sizes. As our systems have various types of different sizes and are suitable for different work areas, you can obtain the ideal scaffolding for your project from us. Because it is easily assembled and disassembled, scaffolding provides a quick and practical solution.It can be installed at the desired height. Safe ladders are used for the passage between floors. The wall tie plays an active role in fixing the system. In addition, the sheet platforms placed on each floor provide a safe working environment.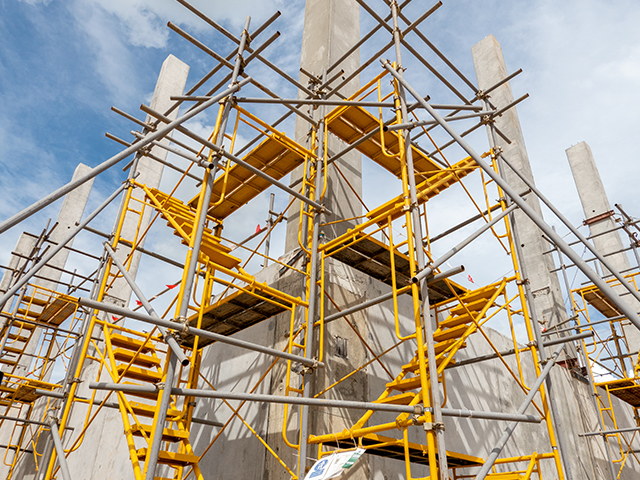 What are the different kinds of exterior scaffolding systems?
Exterior scaffolding types are divided into 3 in terms of installation systems.
H Frame Scaffolding systems
H Frame Scaffolding is one of the most used scaffolding types in our country. It is a scaffold made up of frames. An H frame consists of a combination of cross and horizontal braces. The H-frames are 2 meters high and 2.5 meters long. It is preferred for high and thick flooring. Walking platforms can have a carrying capacity of 300kg/m².
Ring-lock Scaffolding systems
It is installed by joining horizontal and vertical pipes at the connection points by using a rosette, a ledger head, and a wedge pin. It can be installed quickly and transported easily. It has a large carrying capacity.Installation requires only hammers and manpower. Since the walking platforms are long, it is possible to work on large surfaces with a single installation.
Modular Scaffolding systems
Modular scaffolding can be used for all interior and exterior assembly, installation and restoration work. Its wheels provide fast, practical and portable use. Installation and disassembly are easy. It can be installed at the desired height.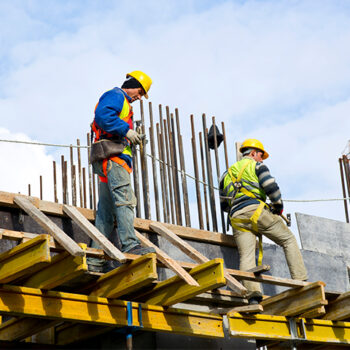 Where to Use an Exterior Scaffold systems?
Facade scaffolding is used in the arrangement and restoration applied to all kinds of facade works of artistic and historical buildings. It is one of our systems that can be used in industrial plants, elevator shafts, and shipbuilding.
Especially in recent years, exterior scaffolding and its advantages have been preferred in projects such as business and shopping centers, residences, energy facilities, industrial buildings, health facilities, renovations, etc. Gürbüz Scaffolding and Formwork Systems serves as the only company with 100% customer satisfaction.
What are the Standards of Exterior Scaffolding systems?
There are some international standards that must be followed in the production of facade scaffolds. These standards have been determined to increase occupational safety.
The braces of the exterior scaffolding systems must be 48.3×3.0mm.
Diagonal and horizontal braces must be produced as 48×2.5mm.
Braces must be TS EN 10219-1 certified by subjecting them to certain tests.
It must have EN ISO 3834-3 certificate.
It must comply with TS-EN 12811-2 standards.
You can contact our customer service for detailed information about Exterior Scaffolding Prices.
Our systems are very easy to install and transport. We also offer installation and transportation services through our professional teams.
As Gürbüz Scaffolding Formwork Systems, we provide services to all cities in the world with our export documents.