Gurbuz Scaffolding, which is a reputable company in the sector, serves customers not only for new and used scaffolding for sale but also for hire scaffoldings. Our company attaching great importance to supplying economic benefits to its customers enables the clients to gain advantages with the rental system. It is a very good solution with affordable prices for rental scaffolds, which you can use in your project without any cash payment problem.
Ankara scaffolding provides you various opportunities so you will end your investment quickly with an efficiency. In this context, scaffoldings have the following advantages:
Rental costs are low.
You benefit from tax deductions.
You are free of storage costs.
You do not have to make large amounts of cash outflow.
Properties of Rental Scaffoldings
Rental scaffoldings have all the qualities of the scaffoldings for sale or second hand:
Installation and demounting of products are effortlesly made.
Safety at the highest level.
Shipping is easy. Since the carrying platforms are used in transfers, there is no need to move the planks.
The scaffold is fixed to the facade with mounting elements.
Maximization of your operation speed.
Protection barriers at the edges of scaffolding ensure the safety of employees and the environment.
There are alternatives that you can apply to all your projects.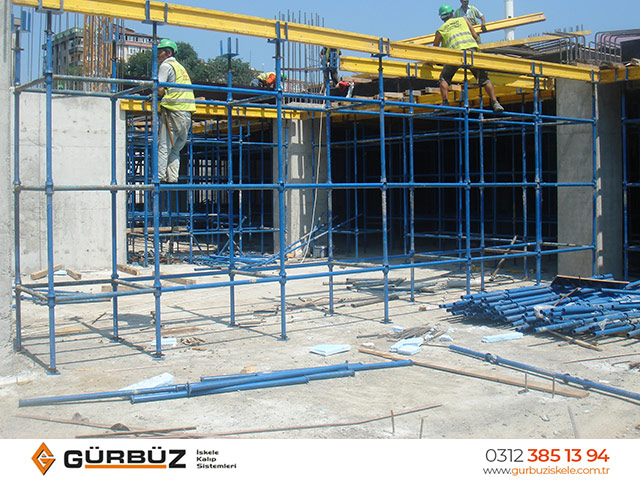 Where Can You Use Rental Scaffoldings?
You can use many scaffoldings, which have many opportunities, because they are quite functional and can be used in many of your business operations:
Facade works of high-rise buildings
Bridge and road construction
Shipyards
Lift wells
Restoration and reorganising of artistic and historical works
Types of Rental Scaffolding
Gurbuz Scaffolding Rental manufactures various scaffoldings with the opportunity of hiring in order to facilitate its customers to do their jobs quickly and efficiently.
Ring lock scaffolding
H Frame Scaffolding
Modular Scaffolding
Scaffold Tower
Telescope Props
Table Type Scaffolding
Cup lock Scaffolding
Price of Rental Scaffolding
The prices for renting scaffolds arent that expensive which would not exceed the company budget. As an alternative approach, you should not ignore  the option of renting scaffold. Gurbuz Scaffolding is one of the few companies that provide scaffolding services in the sector. It also  provides project planning and supervision services for the scaffoldings produced by Gurbuz Scaffolding in accordance with TS-EN 12810 and TS-EN 12811 standards. With this service, everything from the beginning to the end of the project goes as planned and desired. All of our rental scaffoldings have passed different tests and received approva for safety and security.
You can follow us on our social media accounts and contact us to get more detailed information about renting scaffolding.