What is a suspended scaffold? The system, also known as the "electric suspended scaffolding", has a load-lifting feature and exterior usage. Our company, Gürbüz Scaffolding, satisfies its customers with its types of scaffolding at high standard.
What is a suspended scaffold? The system is produced in accordance with EN 1808 which is one of the quality standards in Europe. It has CE conformity certificate as well and can be used in all facade works. Suspended scaffolding is preferred by many companies in construction and restoration works. It is one of the construction tools that enable the employees to perform their duties effectively and all safety precautions are taken.
What is Suspended Scaffolding? Why Use it?
The system is a temporary building and maintenance unit used in the coating and maintenance works on facade walls. The system consists of: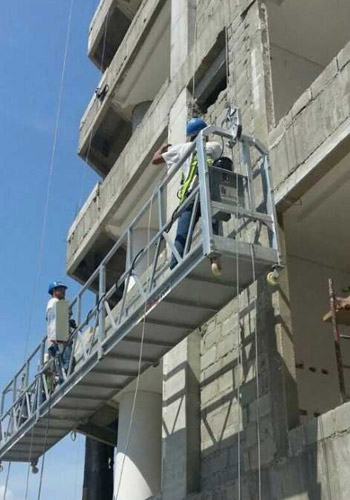 A platform
Anchorage system
Hoist units where ropes are fixed on roof.
Suspended scaffold works with an electric motor. There are safety systems in the system that runs perpendicular to the façade above the ropes. The system eliminates cases such as falling, so that it draws attention due to being an effective safety measure. This mechanism prevents rope breakage and platform tipping.
Where to Use Suspended Scaffold?
Suspended Scaffold is a preferred system for various construction works. It is typically utilized for:
Exterior Sidings
Painting and plaster works
Repair works
Features of Suspended Scaffold
Suspended scaffold is a practical system that has various features. While it has an easy assembly, it also saves labor force. It has divisible platforms. And size of platforms varies between 1 and 6 meters depending on façade of building. Lifting speed of the suspended scaffold is 7 meters. Working distance is extendable. The scaffold can be individualized depending on structure of building and its working plan. Platforms have engine and block brake as well as a second rope system to ensure safety. If its ipower fails, worker can be lifted manually down.
It is very easy to have suspended scaffold that is among the systems manufactured by our company. You can reach us through our social media accounts or by phone. Our company is accompany you in projects, installation and dismantling works with the suspended scaffolding that you can also use in the exterior works of high-rise buildings. You can have this most preferred system in the world at affordable prices.