Cup-Lock Scaffolding are scaffolding systems used in all types of flooring (especially high, thick ,mushroom, with beams). The system consists of vertical and horizontal elements in different sizes. Thanks to assemble and disassemble easily and quickly, it saves time and labor. Also, it is extremely safe. It is more preferred than other scaffoldings since its easy adaptation to different projects.
The Structure of Cup-Lock Scaffolding
Cup-Lock Scaffolding comprises of horizontal and vertical elements. Horizontal elements in 48 × 2.5 mm section and vertical elements in 48 × 3 mm section are produced with standard-pipes which has TS EN 10219-1 certified subjected to mechanical tests.
Vertical elements of Cup-Lock Scaffolding are manufactured with standardized gap of 50 or 100 cm. It can be combined with four horizontal elements at 90 ° from a single connection point. The cup nut made of ductile iron from the horizontal element are passed to the bottom cup and the top cup is hammered by rotated via a hammer. Thus, the horizontal elements with ductile ironed cup nut are locked rigidly in the vertical elements.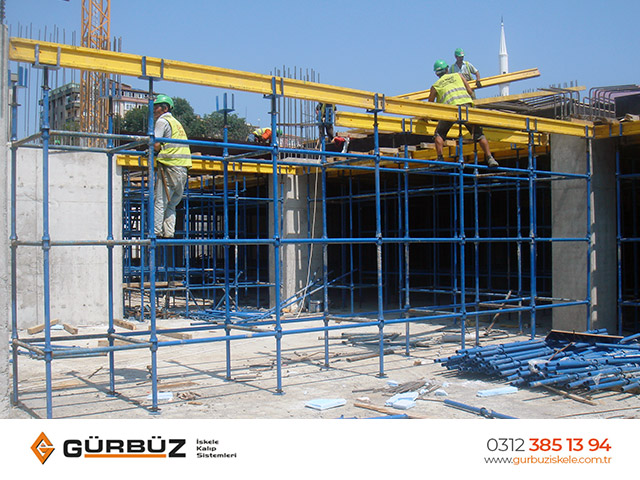 Lengths of horizontal element in Cup-Lock Scaffolding can be produced in different dimensions according to floor loads. It can be used as an alternative of facade scaffolding. Also, it can be used as mobile scaffold tower by placing a stair and railing on the foundation or facade.
Plywood is supported with wood beams H20 or 5-10 / 10 wood in the grid according to floor loads. The main carrier beams are placed on the four-way headers. Cuplock scaffolding slabs are supported with diagonal elements to reinforce the slab thickness, height and wind loads.
The Advantages of Cup-Lock Scaffolding
The height of the scaffold can be precisely adjusted with the help of the adjustment shaft placed on the base and can be used comfortably on all kinds of rough terrain.
The system is painted with special anti-rust paints. It can be galvanized on request.
Thanks to its high strength and carrying capacity, it ensures safe use in heavy floors and high structures.
It has extremely simple and fast installation.
It can easily adapt to all kinds of projects with ease of loading, unloading, transportation and storage.
The height adjustment can be made easily with lower adjustment and upper adjustment shafts.
Assembly and disassembly are made through only hammer.
The product can be used over and over as the it does not have a part to be lost or broken.
You can contact us to get more information about Cup-Lock Scaffolding and take advantage of its reasonable prices.