The exterior scaffolding, preferred for the works to be conducted on the facades of construction sites, construction and facades of buildings, is the system that increases your speed while protecting the safety of your employees life and property. With the assurance of Gürbüz Scaffolding servicing all over Turkey, assembly of exterior scaffolding system will be made easily without any problems.
Work safety in exterior scaffolding is one of the most important issues of all companies. The safety of your employees is commended to your care so you want to use the safest exterior scaffolding product with this awareness. The following alternatives will be an ideal choice for you.
H Type Scaffolding is a multi-purpose scaffolding which is preferred and used in different facade works, shipbuilding industry and industrial facilities.
Ring Lock Scaffolding can be used in all facade projects, restorations of artistic and historical buildings, industrial facilities, elevator wells, shipbuilding and repair works.
Modular Scaffolding is a wheeled system used in all kinds of installation and restoration projects in the interior and exterior of the buildings.
Superior Standards of Exterior Scaffolding Systems
Depending on platform to be used, the facade scaffolding systems whose length is easily adjustable can carry thousands of pounds. Therefore, it is used in shipbuilding, heavy industry, elevator wells and industrial facilities where heavy materials are transported. Moreover, very heavy materials have recently been transported in business and shopping centers. In this context besides business and shopping centers, the scaffold has begun to be preferred in industrial buildings, energy and health facilities.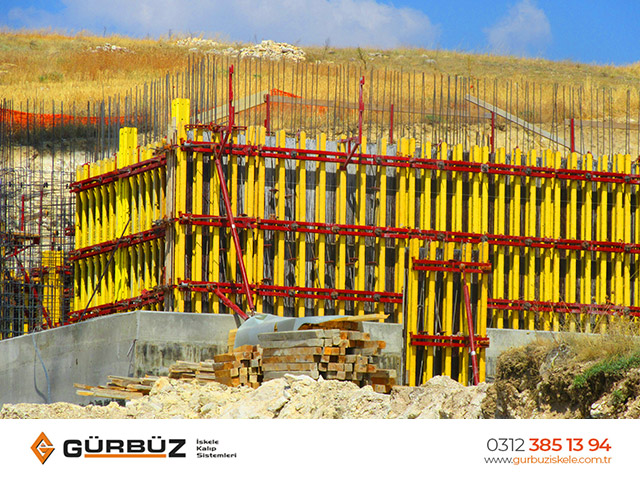 In order to do all these, some specified product standards are required. The exterior scaffolding is manufactured in accordance with TS-EN 12811 and TS-EN 12810 standards.
The facade scaffolding can be reached to a height of hundreds of meters.
The scaffolding does not collapse, so the safety of the employees is made certain with its stabilizing structure.
Material quality is superior.
Installation and fixing is made by our company.
You can contact Gürbüz İskele in order to have this ergonomic, easy to install and high standards scaffoldings and its service guarantee. If you want to reduce costs, you can take advantage of our rental service of scaffold offered by Gürbüz İskele as well as our service of scaffold for sale. If you make a little research, you will see that our company offers the most suitable and advantageous prices.