Formwork Systems are extremely wide and safe systems that vary according to their usage areas and activities. Safe scaffolding is one of the most used systems in facade, paint, sheathing and insulation works, wall construction, facade cladding and coating processes, and silo construction. The adjustable support apparatus is fixed to the wall with a steel dowel system and does not leave any traces on the wall after construction.
Formwork Systems saves time thanks to its fast installation and steel scaffolding system. In addition, it has a very long service life due to the quality of the materials used. Formwork System Elements are manufactured as fabrication in certain standards and used in accordance with a work program on the construction site. As a result of developments in concrete technologies, building elements can be made more delicate and detailed. In this case, the share of formwork costs in the processed unit concrete increases. But you don't have to worry. We are at your service with the quality standards and high price advantages we offer. You can contact us immediately to get more detailed information about Formwork Systems Prices.
What are the Formwork Types?
Formwork types are classified according to the material they are made from and the way they are applied.
Panel molds according to their material: Plywood panel formwork, wood panel formwork, steel panel formwork and plastic panel formwork.
Forms according to the application method: Sliding panel formwork, climbing panel formwork and column formwork.
There are different types of construction formwork under this classification. Some of these patterns are:
Climbing Formwork: It is the formwork that is raised by adding it to the formwork used on the previous floor without removing it. Thus, it provides an uninterrupted continuity. Detachable anchors and climbing shoes carry the formwork system. As they are mounted on the structure, they can be applied without the need for formwork scaffolding. It can provide economy by providing a fast working system.
Steel Curtain Column Formwork: It is produced from steel and aluminum. It is installed using steel profiles. Being able to be used as individual pieces gives a freer shaping opportunity. It can be set up with human power or used as a climbing form with the help of a crane. It is easy to assemble and disassemble and can be used many times. It can be used to make smooth concrete surfaces that do not require plastering.
Wooden Beam Curtain Column Formwork: It is a formwork system that saves time and material waste. It consists of wooden beams, plywood and steel belts and can be used with a single assembly until the end of the job. It can be used in different sizes and on large surfaces.
Wooden Beam Circular Formwork: As the name suggests, circular formworks are used in circular structures. It is used in the construction of inclined surfaces such as silos, minarets, dams and tunnels. It is the same as the wooden beam curtain formwork in terms of material structure. It provides a safe and wide working area.
One-Sided Formwork: These are Formworks that can be installed on one side and allow working in narrow spaces. It is installed with buttresses, horizontal braces and anchors. It can be climbed unilaterally by installing climbing consoles. It can be transported with the help of a crane.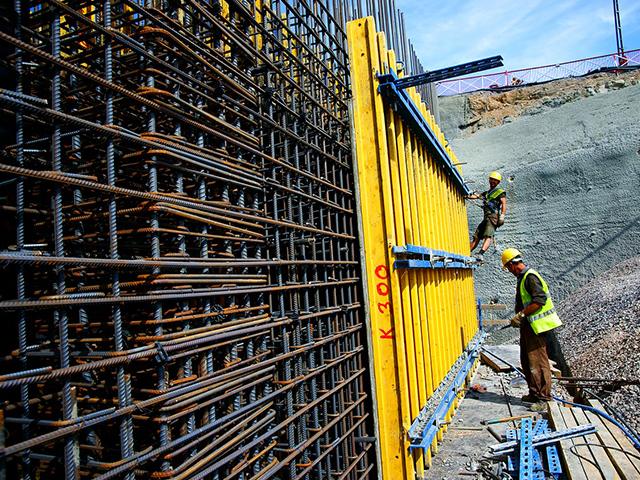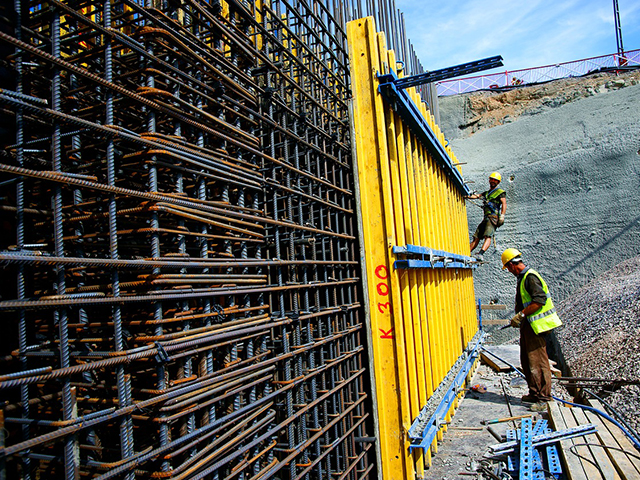 Where Are Formwork Systems Used?
Formwork Systems are used in dams, tunnels, bridges, high retaining walls, multi-storey buildings, small structures and silos, etc. can be used in the construction of structures. In addition to these, it can also be preferred in paint, facade operations, sheathing, insulation, wall construction, facade cladding and coating processes. In accordance with your needs, it can be adapted to your projects with minor changes to the system.
What is Construction Formwork?
The construction formwork is the building element that enables the concrete to take shape statically and architecturally during the pouring of concrete. The formwork is installed according to the dimensions of a panel or wall drawn in the project, and concrete is poured into it and waited to dry. It is one of the elements that the most attention is paid to its use in construction. The better the molds are used, the higher the static strength of the building and the lower the costs due to misuse. Therefore, it should be installed and used by people with technical knowledge under the supervision of engineers. In order to get the best efficiency with the use of molds, it must be produced in international standards and installed in accordance with the regulations.
All products comply with TS-EN 12811 standards. In addition, the systems are produced by gas metal arc welding robots in EN ISO 3834-3 quality standards.
Our products, which we offer with the assurance of Gürbüz Scaffolding and Formwork Systems; State-of-the-art security systems are used in all of them.
You can contact us for detailed information about the price of the systems.