Shear Wall Formwork can not always be an preferred alternative for any case. But, as there are lots of ridge and unevenness in Turkey, the construction sector has some risks and hazards.  Therefore, shear wall is one of the structural components that must be present in all constructions in accordance with the latest regulation.
Shear Wall Formwork is very durable. Exterior shear wall are built to protect the construction from external influences. After that, the jacketing isolation from moisture is made in order to cut the structure's contact with the soil. Thus, the safety of the building and the environment is ensured. These system, known as shear wall, provides very good protection at low cost.
Advantages of Shear Wall Formwork
Shear wall mainly provides buildings with three advantages:
The main function of Shear wall is to carry horizontal loads and limit the horizontal shift of the building. The Construction Wall Formwork is therefore adjusted to be ductile. These can be done by people who are professionals in this field.
If you want to learn how the system is made, you can review the rest of our article or contact our company.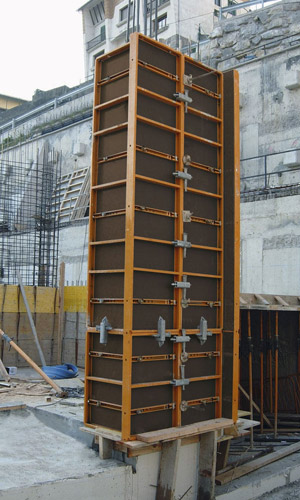 Construction of Shear Wall Formwork
Shear wall formwork is easy to make, but has some different details. In the construction of Shear Wall, human power is not used like column formworken. Unlikely, while Shear Wall is installed, professional people in this field should perform the operation. You can call our company to learn how this process is done and benefit from our designer teams at the most affordable price.
Construction Wall Formwork Systems
Construction Wall Formwork can be nailed if there is no problem in the systems after shear wall calculation.
Foundation of Shear wall starts to be laid and shear wall is sized. Wall formwork is prepared in conformity with the determined dimensions, then concrete is poured. After the concrete in formwork dries, formwork is dismantled by experts.
In order to get detailed information about our shear wall formworks and to order, you can contact Gürbüz Scaffolding. If you want to contact from Europe and the Middle East region, you can send us your phone number through the contact form. Our customer representative will call you.